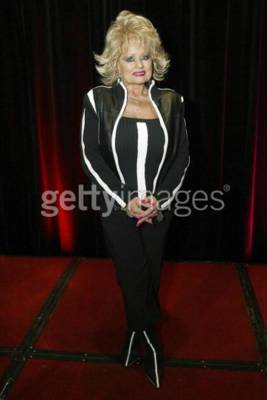 Tammy Faye. I see nothing has changed about you, from your helmet hair to your brightly painted talons. Oh how you attack your cosmetics and apply them with such religious zeal!
Last time we chatted was ages ago. I think you were on the Surreal Life and we had spoken briefly about Vanilla Ice and Gary Coleman.
I take offense to the fact you have decided to toss my fashion advice aside like yesterdays news. What did I tell you about teasing your hair with a pick and using a can of Aqua Net? Have you given any thought to what I told you about bleaching your hair with a bottle of Sun-In? We discussed hair matching skin tone, did we not?
Hmmm? How about gallons of face paint you use, do you still have the tub of cold cream I gave you to remove it all? I warned you about piling on the eyeliner; heavy eye makeup closes the eye, doesnt make it bigger. And be careful of applying mascara like youre grouting tile.
Honey, The outfit looks like the 405 freeway on a dark night when all you can see is the stripe down the center of the road. And a stripe down your boots too? Tammy...what did pearls of wisdom did I cast out before you regarding clothing?
Repeat after me: A fabulous makeup artist and hair dresser are priceless, a good stylist is better than gold.